Let's talk money!… Tjongsfjord Lodge prices 2021 – 2022:
Tjongsfjord Lodge prices 2021 – 2022:
---
What is included…
Boat (Aluminium motorboats with all the required equipment are available.)
Boat insurance for boat damages over 1500 Euros
Safety instruction and equipment
Linen package (Our Linen Package includes bed covers and all sheets for our down pillows and duvets .The duvets are 210 by 135 cm and are comfortable through out the year. Our towels are made of cotton and there are two towels provided per week. If you need another towel just ask our host. The kitchen is also equipped with all necessary linen.)
Use of washer and dryer,
Freezers and all fish cleaning facilities. For the convenience of our guests, we have a fully equipped filleting house at the pier with running fresh and salt water. The filleting house is built on the basis of a houseboat and is located directly on the pier for more convenient fish processing. We provide our clients with free vacuuming equipment.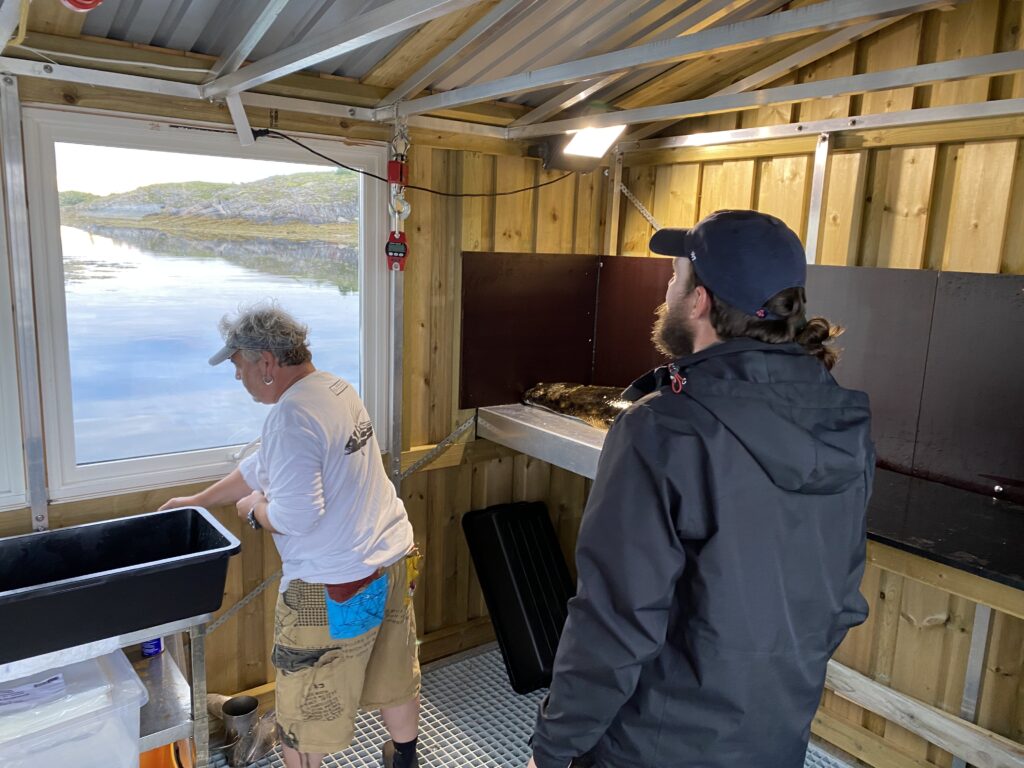 ---
what is not included in the price…
Airport Transfer 60,- € per Person per trip (minimum of 4 people) Please book together with house booking.
Cleaning fees 1500 NOK (approx. 150 €) payable to the service staff (cash/ paypal/ money transfer)
Boat cleaning 150,- € if boat is not left as found (cash/ paypal/ money transfer)
Fuel (All of our boats use gasoline. In order to provide you with reliable boats we ask you to please buy all fuel at the local harbour gas station. The fuel is of high quality and reasonably priced. Please always keep 50 % of your fuel capacity in your tank in addition to the 2x 20 l gas cans. The fuel consumption of the boat varies with wind and current directions. Running out of fuel can cause dangerous boating situations.)
Guiding 6-8 hours 200, € per day payable to the service staff (cash/ paypal/ money transfer)
Flotation suits and fishing equipment can be provided. We highly recommend that you bring your own reels and lines. We have a little basement shop with all necessary equipment and the local harbour hardware store has a tackle department.
Robert Buschmann
10. August, 2020.
Wir waren im Juli mit 6 Personen für 8 Tage zu Gast in der Tjongsfjord Lodge. Es handelt sich im eine tolle Unterkunft die keine Wünsche offen lässt. Die Gastfreundschaft der Eigentümer und des gesamten Teams war nicht zu überbieten. Das Angelrevier ist in Kombination mit der perfekten Bootsflotte wirklich einmalig. Wir kommen gerne wieder.
Peter Giebeler
2. August, 2020.
Ein perfekter Angelurlaub ! Tolles Revier, Super Team, Unterbringung und Boot top!! Wir kommen definitiv wieder!
Michael Bernier
5. July, 2019.
Tolle Anlage, da passt einfach alles von den Unterkünften über die Boote bis hin zum Revier! Kann ich nur empfehlen und komme gern wieder! Gruss Micha
Stefan Brockmeier
23. June, 2019.
Traumhaftes Revier Im Frühjahr 2019 waren wir mit 6 Personen in der Lodge. Wir haben jeden Tag viele Dorsche gefangen und Seelachse. Die Wetterbedingungen waren von Ententeich bis ordentlich Welle. Der Fjord bietet für jede Wetter- und Windbedingung die Möglichkeit zu angeln (und zu fangen). Es hat super viel Spaß gemacht und wir haben unsere 20 kg Filet/Person ohne Probleme erreicht. Mit dem großen Boot war es ein reines Vergnügen über das Wasser zu fahren und man hatte nie das Gefühl das es in irgendeiner Weise unsicher ist. Top Boot. Auch der Transfer vom und zum Flughafen war völlig unkompliziert. An einem Tag war eine andere Gruppe mit 3 Personen rausgefahren und gezielt auf Heilbutt gegangen. Zwei Butts waren es am Ende des Tages. Wir kommen gerne wieder. Danke nochmal für die tolle Betreuung und Unterstützung durch den Vermieter (Christopher), der zu der Zeit vor Ort war. Da die Lage am Rande des Polarkreises ist war es immer hell. Für mich ein überaus positives Kriterium, da man auch man zur eigentlichen Nachtzeit rausfahren kann. Fotos: Abendstimmung - mein größter Fang - Blick vom Haus
Matthias Trenkel
14. June, 2019.
Sehr schöne Anlage. Die Umgebung ist traumhaft schön, die Hütten super gemütlich und 1A ausgestattet. Auch das Angeln ist total genial! Dorsche gibt's überall, dazu große Seelachse und Pollacks. Die besten Spots sind nicht weit entfernt und im Prinzip kann man bereits vom hauseigenen Steg anfangen zu fischen, wo ich beim Meerforellenangeln gleich einen Heilbutt landen konnte! 🙂
Ein Revier der Superlative! Sehr viel Fisch, bei jedem Wind ist was möglich, riesiges Angelgebiet, große und seetüchtige Boote, absolut traumhafte Landschaft, eher privates Flair anstatt überlaufener Anlage und top ausgestattete Häuser....was will man mehr!?
Christopher Fleckney
1. June, 2019.
Wir waren im Mai 2019 mit einer Gruppe zu sechst im gelben Haus. Die Lage ist perfekt und sehr ruhig. Ausstattung vom Haus absolut ausreichend, um die Abende mit Grill und Küche abzuschließen. Wir hatten das große Aluboot, welches auch in rauer See einen guten Dienst tut und wir alle gleichzeitig die Rute krumm machen konnten. 😁 Man kann in Hafen nebenan jederzeit und einfach tanken, welches nicht oft notwendig ist... es sei denn man legt den Hebel zu oft auf den Tisch für den Spaß Faktor. Uns reichten knapp 500€ für Sprit und wir waren jeden Tag bis zu 13 Stunden draußen. Bei guten Wetter ist es möglich weit (ca. 25km) raus zu fahren. Die Natur ist überwältigend und hinterlässt einen prägenden Eindruck. Fische hatten wir reichlich, der größte Köhler war 130 cm, Dorsch 120 cm. Jederzeit wieder!
Monsieur Félix
4. November, 2018.
Nous avons passé un séjour magnifique dans un cadre splendide au Tjongsfjord Lodge ! Le logement était super bien équipé, le personnel très à l'écoute et professionnel et des possibilités de pêche qui font tout simplement rêver. Passer une nuit à pêcher sur le bateau sous le soleil de minuit du Nord - une expérience qu'on oubliera jamais ! De plus, aucune déception au niveau des éspèces pêchées: cabillauds, colins, sébastes, maqueraux et même flétan ! On n'aurait pas pu demander plus. Un grand merci à toute l'équipe et à très bientôt...
Christian Röling
1. November, 2018.
Fisch satt in atemberaubender Landschaft und luxuriöser Unterkunft. Wir waren im Sommer für drei Wochen da. Die Häuser sind grandios und außergewöhnlich gut ausgestattet. So konnte man selbst bei schlechtem Wetter hervorragend verweilen. Die Lodges sind wunderschön gelegen mit eigener kleiner Badebucht und Bootsanleger direkt in den Fjord oder ins offene Meer. An Fischen haben wir alles gefangen, was das Anglerherz begehrt (Heilbutt, Seelachs, Dorsch, Lump, Rotbarsch, Meeresforelle und Lachs). Die Boote sind der Hammer und nach kurzer Einweisung durch den wirklich erfahrenen und sehr freundlichen Guide kinderleicht zu fahren. Einkaufsmöglichkeiten und Fähranbindung fussläufig erreichbar. Die Buchung und Betreuung lief einwandfrei. Wir kommen gerne wieder und denken noch gern an die wundervolle Auszeit zurück!
---
Tjongsfjord Lodge Availability calendar
*YOU HAVE TO CHOOSE THE OBJECT FROM THE LIST FIRST TO GET AN OVERVIEW
*PLEASE, NOTICE!!! THROUGH SENDING US A BOOKING REQUEST YOU ALLOW US TO PROCEED YOUR DATA FOR BOOKING PURPOSES AND FOR CONTACTING YOU BACK
---
We exclusively work with the booking agency "Andrees Angelreisen", where you can book the fishing trip to our Lodge including travel insurance and flights.
We also work with professional fishing guides, who provide full service packages for their clients. They come to our Lodge with their own groups. Their prices differ from ours as they provide fully guided trips, teaching you how and where to fish, about the best fishing lures and baits and the most successful fishing technics. Also, if you are looking to join a group, do not hesitate to contact one of the professional fishing guides, working with us. They are : Rainer Korn, Thomas Czapla, Robert Langford. They are the authors of many articles, books, and videos about fishing in Norway. Their bookings are included in our availability calendars, but we do not follow their availability. Please, contact them directly.
Your queries, suggestions, comments and feedback concerning our website and our service at Tjongsfjord Lodge are very welcome.