The fjord and island world to the south of Bodø is regarded to be one of the Northern Norway's fishing heavens. Northern Norway has always been closely associated with fishing, and as a result you will find Tjongsfjord Lodge a dream fishing destination. In only a few meters depth species like cod, halibut, saithe, redfish, haddock and wolffish often grow unusually large here.
The high season runs from May to October. During the summer months, you can fish around the clock thanks to the midnight sun. From the end of September late in the evening every fisherman has ample chances of spotting the northern lights dancing across the sky. We would like to welcome you to Tjongsfjord Lodge for a marvellous fishing holiday.
Tjongsfjord Lodge is situated at the fjord exit to the North Atlantic just 10 miles to the North from the Arctic Circle and offers unlimited fishing opportunities for more than 10 species of fish. The extremely well-structured seabed, with its countless plateaus, gullies and steeply sloping edges, provide a lot of fishing opportunities for every fisherman.
Due to the location at the outer end of Tjong Fjord (Tjongsfjorden), Tjongsfjord Lodge offers the opportunity to react quickly to different weather conditions. Tjong Fjord (Tjongsfjorden) is protected against north and northwesterly winds, enabling successful fishing in almost any weather condition. In Tjong Fjord (Tjongsfjorden), which is characterised by its rich water structure, that offers the perfect habitat to fish. Cod, pollock and halibut are the main species.
In good weather conditions, the 20 km distant outer shelf can be reached in about 1 hour. There you will find really big fish. Pollock well over 1 m,halibut, large ling and redfish complete the target fish spectrum.
Additional to the boat fishing you can fish from the shore for salmon, sea trout and cod. At the end of Tjong Fjords (Tjongsfjorden), which can be reached in 10 minutes by car, you can fish a waterfall, that flows directly into the sea. Both salmon and sea trout are there. In the mackerel saison every cast is a strike. Our guests have access to a private lake with lake trout up to 6 kg. A brook with good brown trout stocks in crystal clear water can be reached in 1 hour driving time.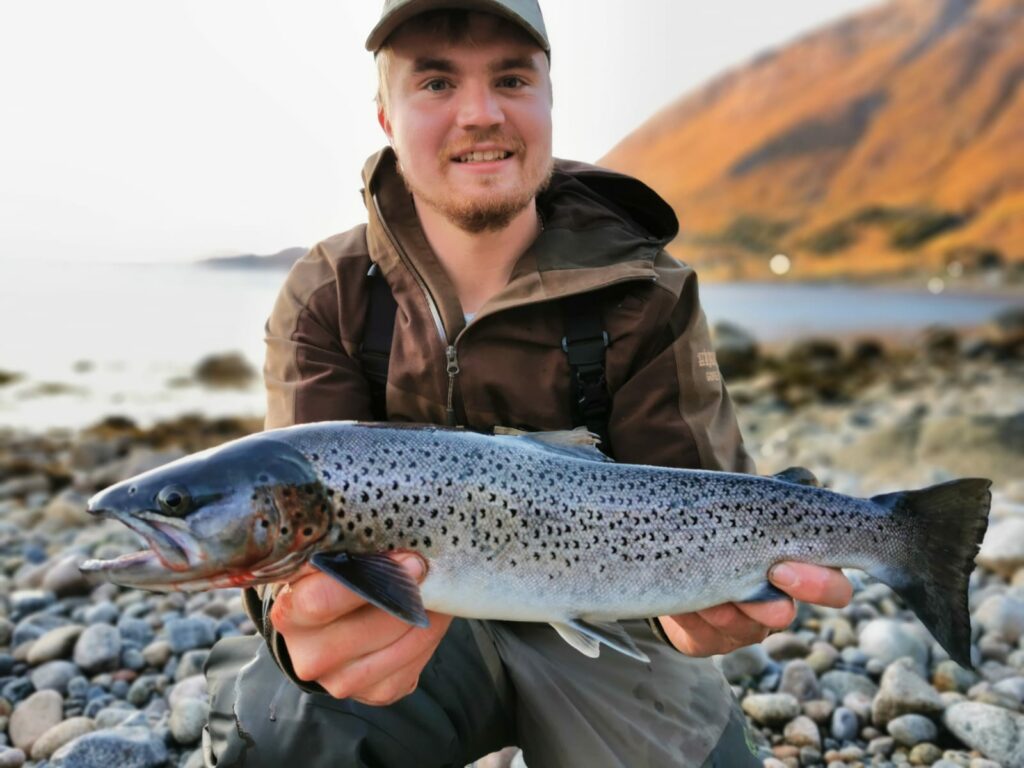 Geographical facts about our fishing Lodge:
Tjongsfjord Lodge is located above the Arctic Circle. Thanks to the warm currents of the Gulf Stream, the climate is decidedly warmer than other destinations on the same latitude.
Tjong Fjord (Tjongsfjorden) is a fjord in the municipality of Rødøy in Nordland, Norway. The Norwegian Federal Highway 17 runs along the inner part of the fjord. The 17-kilometer-long fjord begins to the west of the Svartisen Glacier and flows into the Rødøy Fjord (Rødøyfjord) to the east of the island of Rødøy.
Blokktinden mountain and Svartisen Glacier are the main attractions in Tjong Fjord (Tjongsfjorden). Blokktinden is located on the southern shore of the fjord. Opposite to it on the northern shore of the fjord there are the villages of Tjong and Vågaholmen, where you can find our Tjong Fjord Lodge.
The Tjongsfjord is traversed by shallows, numerous underwater mountains and sandy plateaus. Cod, halibut and salmon live in this habitat. The place is teeming with big fish, including pollock and sea trout and many other species. The tasty redfish can also be caught on the steep edges in Tjong Fjord. Halibut is regularly caught on the many sandy plateaus!
Find excellent opportunities for saltwater fishing! Try your luck in Tjong Fjord! Unforgettable fishing experience is expecting you at our Tjongsfjord Lodge.
Robert Buschmann
10. August, 2020.
Wir waren im Juli mit 6 Personen für 8 Tage zu Gast in der Tjongsfjord Lodge. Es handelt sich im eine tolle Unterkunft die keine Wünsche offen lässt. Die Gastfreundschaft der Eigentümer und des gesamten Teams war nicht zu überbieten. Das Angelrevier ist in Kombination mit der perfekten Bootsflotte wirklich einmalig. Wir kommen gerne wieder.
Peter Giebeler
2. August, 2020.
Ein perfekter Angelurlaub ! Tolles Revier, Super Team, Unterbringung und Boot top!! Wir kommen definitiv wieder!
Michael Bernier
5. July, 2019.
Tolle Anlage, da passt einfach alles von den Unterkünften über die Boote bis hin zum Revier! Kann ich nur empfehlen und komme gern wieder! Gruss Micha
Stefan Brockmeier
23. June, 2019.
Traumhaftes Revier Im Frühjahr 2019 waren wir mit 6 Personen in der Lodge. Wir haben jeden Tag viele Dorsche gefangen und Seelachse. Die Wetterbedingungen waren von Ententeich bis ordentlich Welle. Der Fjord bietet für jede Wetter- und Windbedingung die Möglichkeit zu angeln (und zu fangen). Es hat super viel Spaß gemacht und wir haben unsere 20 kg Filet/Person ohne Probleme erreicht. Mit dem großen Boot war es ein reines Vergnügen über das Wasser zu fahren und man hatte nie das Gefühl das es in irgendeiner Weise unsicher ist. Top Boot. Auch der Transfer vom und zum Flughafen war völlig unkompliziert. An einem Tag war eine andere Gruppe mit 3 Personen rausgefahren und gezielt auf Heilbutt gegangen. Zwei Butts waren es am Ende des Tages. Wir kommen gerne wieder. Danke nochmal für die tolle Betreuung und Unterstützung durch den Vermieter (Christopher), der zu der Zeit vor Ort war. Da die Lage am Rande des Polarkreises ist war es immer hell. Für mich ein überaus positives Kriterium, da man auch man zur eigentlichen Nachtzeit rausfahren kann. Fotos: Abendstimmung - mein größter Fang - Blick vom Haus
Matthias Trenkel
14. June, 2019.
Sehr schöne Anlage. Die Umgebung ist traumhaft schön, die Hütten super gemütlich und 1A ausgestattet. Auch das Angeln ist total genial! Dorsche gibt's überall, dazu große Seelachse und Pollacks. Die besten Spots sind nicht weit entfernt und im Prinzip kann man bereits vom hauseigenen Steg anfangen zu fischen, wo ich beim Meerforellenangeln gleich einen Heilbutt landen konnte! 🙂
Ein Revier der Superlative! Sehr viel Fisch, bei jedem Wind ist was möglich, riesiges Angelgebiet, große und seetüchtige Boote, absolut traumhafte Landschaft, eher privates Flair anstatt überlaufener Anlage und top ausgestattete Häuser....was will man mehr!?
Christopher Fleckney
1. June, 2019.
Wir waren im Mai 2019 mit einer Gruppe zu sechst im gelben Haus. Die Lage ist perfekt und sehr ruhig. Ausstattung vom Haus absolut ausreichend, um die Abende mit Grill und Küche abzuschließen. Wir hatten das große Aluboot, welches auch in rauer See einen guten Dienst tut und wir alle gleichzeitig die Rute krumm machen konnten. 😁 Man kann in Hafen nebenan jederzeit und einfach tanken, welches nicht oft notwendig ist... es sei denn man legt den Hebel zu oft auf den Tisch für den Spaß Faktor. Uns reichten knapp 500€ für Sprit und wir waren jeden Tag bis zu 13 Stunden draußen. Bei guten Wetter ist es möglich weit (ca. 25km) raus zu fahren. Die Natur ist überwältigend und hinterlässt einen prägenden Eindruck. Fische hatten wir reichlich, der größte Köhler war 130 cm, Dorsch 120 cm. Jederzeit wieder!
Monsieur Félix
4. November, 2018.
Nous avons passé un séjour magnifique dans un cadre splendide au Tjongsfjord Lodge ! Le logement était super bien équipé, le personnel très à l'écoute et professionnel et des possibilités de pêche qui font tout simplement rêver. Passer une nuit à pêcher sur le bateau sous le soleil de minuit du Nord - une expérience qu'on oubliera jamais ! De plus, aucune déception au niveau des éspèces pêchées: cabillauds, colins, sébastes, maqueraux et même flétan ! On n'aurait pas pu demander plus. Un grand merci à toute l'équipe et à très bientôt...
Christian Röling
1. November, 2018.
Fisch satt in atemberaubender Landschaft und luxuriöser Unterkunft. Wir waren im Sommer für drei Wochen da. Die Häuser sind grandios und außergewöhnlich gut ausgestattet. So konnte man selbst bei schlechtem Wetter hervorragend verweilen. Die Lodges sind wunderschön gelegen mit eigener kleiner Badebucht und Bootsanleger direkt in den Fjord oder ins offene Meer. An Fischen haben wir alles gefangen, was das Anglerherz begehrt (Heilbutt, Seelachs, Dorsch, Lump, Rotbarsch, Meeresforelle und Lachs). Die Boote sind der Hammer und nach kurzer Einweisung durch den wirklich erfahrenen und sehr freundlichen Guide kinderleicht zu fahren. Einkaufsmöglichkeiten und Fähranbindung fussläufig erreichbar. Die Buchung und Betreuung lief einwandfrei. Wir kommen gerne wieder und denken noch gern an die wundervolle Auszeit zurück!