This aluminium boat is a very fast boat suitable for trolling ( FISHING WITH DOWNRIGGERS ) IN TJONG FJORD for up to 4 people. 
If you're planning a great sea fishing adventure in Nordland, Norway, then an aluminum boat with a 150 horsepower motor may be just what you need. Aluminum boats are known for their durability and strength, making them a popular choice for fishing enthusiasts who want a vessel that can withstand the harsh conditions of the sea.
Our 7-meter long boat provides ample space for storing equipment and moving around comfortably. A 150 horsepower motor is essential for powering this boat through the water quickly and efficiently. This is especially important when fishing with downriggers, as you need to be able to move your boat in and out of different depths quickly and smoothly. Additionally, you will have a boat that has a good range of electronics, such as GPS, fish finders, and sonar.
---
Table of Contents
---
FISHING WITH DOWNRIGGERS:
The boat is built very streamlined and is therefore fast and fuel-efficient. It has a 10 inch echo sounder and a deep water transducer. Many rod holders and storage space allow the angler to get through the day comfortably. From 2023, the boat can also be rented with 2 Cannon downriggers for trolling upon request. This allows trolling for salmon, sea trout and also halibut.
Trolling on an aluminum boat is a popular technique for catching fish in deeper water. Downriggers are devices that attach to the sides of a boat and use a heavy weight to keep fishing lines at a consistent depth.
Here are the basic steps for fishing with downriggers:
Set up the downriggers on either side of the boat, following the manufacturer's instructions. Typically, this involves attaching the downrigger to the boat's gunwale, extending the boom out over the water, and attaching a heavy weight to the end of the cable.
Attach the fishing line to the downrigger release clip, which will hold the line in place until a fish strikes. The release clip is attached to the downrigger cable and can be adjusted to set the depth at which the fishing lure will be suspended.
Lower the weight and fishing line to the desired depth, using a depth finder or other means to determine the depth at which the fish are biting. Typically, downriggers can reach depths of up to 100 feet or more.
Troll the boat at a slow, steady speed, allowing the fishing line to trail behind the boat at the desired depth. The downrigger weight will keep the line at the correct depth, and the fishing lure will attract fish to strike.
When a fish strikes, the downrigger release clip will pop open, allowing the fishing line to be reeled in by the angler. Be sure to adjust the downrigger release clip for the next cast, setting the depth and lure type based on the success of previous catches.
Overall, fishing with downriggers on an aluminum boat can be an effective way to catch fish in deep water, as long as the angler is familiar with the equipment and techniques involved. A dead bait fish on the trolling system at the right depth with no additional weight can make memories for a lifetime.
The electric downriggers cost 300 euros rental fee per week. Included in the price is an introduction to fishing with downriggers. Trolling bait can be purchased in our shop and  trolling rods can be rented. While salmon and sea trout are successfully fished for in spring, king halibut can be outwitted with trolling baits all the way through summer.
We are pleased to be able to offer you this additional type of fishing on our T-Top aluminium boat. Trolling should ideally be carried out with 2 to 3 people. We learned this style of fishing from our Swedish guests. They are inherently much more familiar with trolling. The sometimes almost unbelievable daily catch ( and release)  of 10 salmon and sea trout in one boat were motivation enough to take a closer look.
We kindly ask our anglers not to take more than one salmon or one sea trout per person per day. We would like to preserve our wild stocks of these fish for everyone in the future.
PHOTOS OF THE BOAT: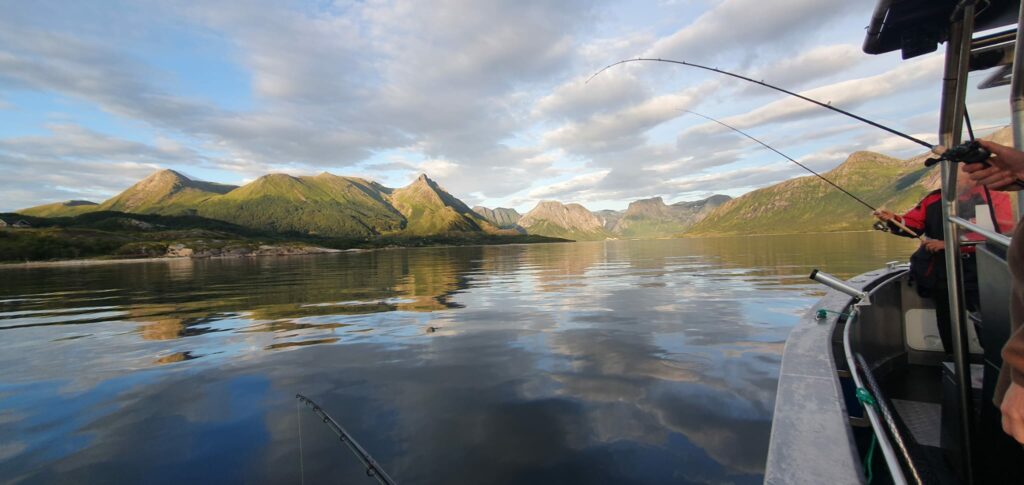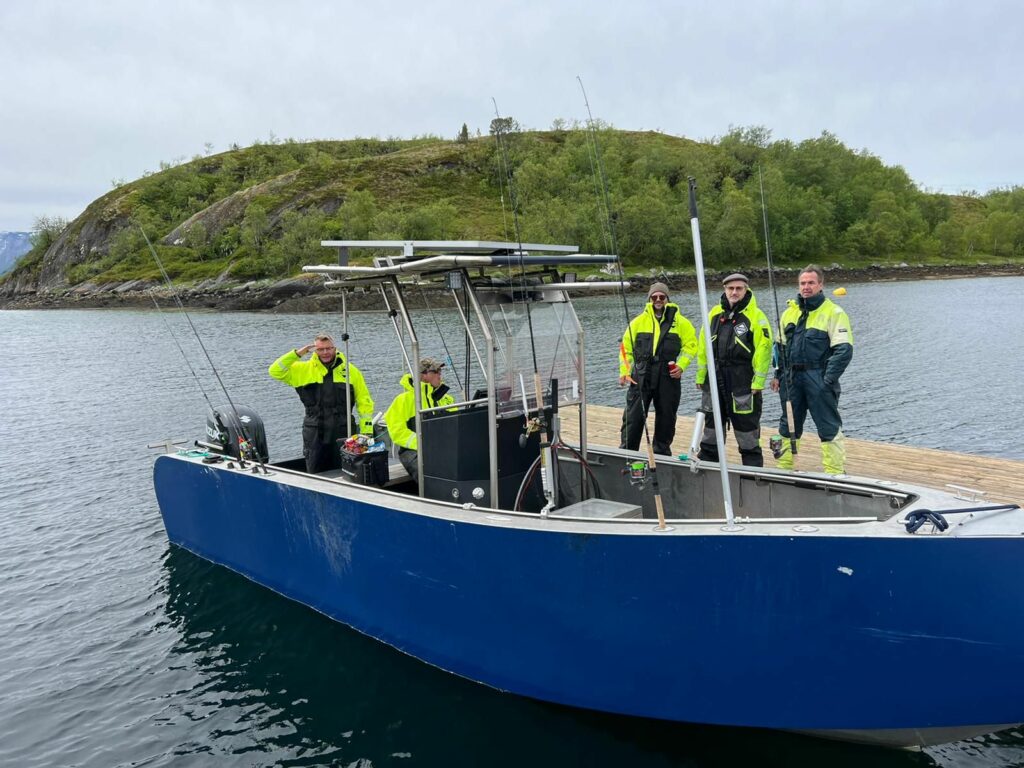 "MAY BE USEFUL" LINKS:
Rental agreement for the boat (coming soon)